Hungover, coming down, slept rough, and feeling like it was worth it. Finally time to kick the shoes off and reflect on events. So many mornings, only a few can be called the morning after…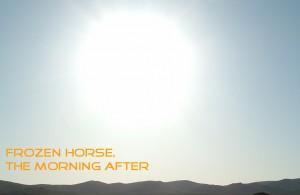 Primal Scream – I'm Coming Down
Bombay Dub Orchestra – Feel
Modern Relics – The Shipping Forecast II
Moby – Anthem (cinematic mix)
The Art of Noise – Out of This World
Fila Brasilia – Soft Music Under Stars
Primal Scream – Higher Than the Sun (a dub symphony in two parts)
Katcha – Touched By God (quiet storm mix)
Orbital – Are We Here?
Bjork – All is Full of Love (plaid mix)
Bombay Dub Orchestra – Compassion (continental drift mix)
Banco de Gaia – Kara Kum
This entry was posted on Saturday, July 26th, 2008 at 7:51 pm and is filed under
Uncategorized
. You can follow any responses to this entry through the
RSS 2.0
feed. Both comments and pings are currently closed.